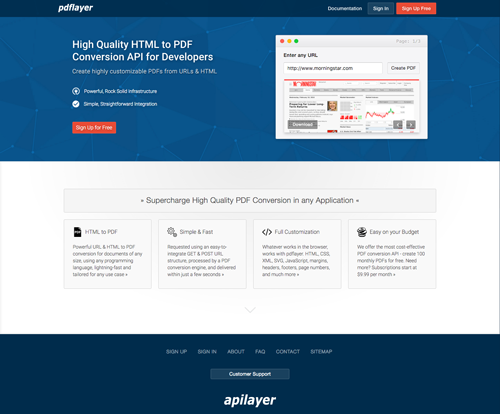 htmltopdfapi.com + pdflayer API
In an effort to offer you a free, uptime-guaranteed & high quality HTML to PDF API we've joined forces with the pdflayer API.Start using the free API »
About HTML to PDF API service
With this service you can easily generate pdf from html page. We support HTML, CSS 2 & CSS 3 (partly) and JavaScript. You can perform queries to not public pages sending custom HTTP headers, Cookies or GET/POST data to your page to identify your script.
Built on WebKit!
This high class HTML to PDF service is build on WebKit, which is developed by Apple, KDE, Nokia, Google, RIM, Palm, Samsung and others. We use Linux cloud servers to provide you great service at low price.

WebKit is a layout engine designed to allow web browsers to render web pages. WebKit underlies the Apple Safari and Google Chrome browsers. As of July 2012 it has the most market share of any layout engine at over 40% of the browser market share according to StatCounter. It is also used as the default browser in the iOS, Android, BlackBerry Tablet OS and webOS mobile operating systems.

From Wikipedia, the free encyclopedia
Maximum Quality
You get 75+ different settings to choose from to make your your pdf coversions just like you want it to be!
Our mission
Our mission is to provide best quality HTML to PDF API service for developers, so they could build high class applications for mobile or desktop devices. We encourage you to build extensions, apps or any other software with our API service. If you have any questions, please leave us a message in contacts form.
For users
There are already build some great tools to make your life easier when you need to convert HTML page to PDF document! You should check our home page menu for some interesting tools.